So you want to buy a home, but you suspect there's water damage.
Fixer-uppers can be great.
But before you shake on that offer, we recommend learning how current and past water damage could cost you in the future, as well as how it might benefit your final sale price.
This article is all about how you should assess the water damage in a home you want to buy, and how to go about getting a great deal—without risking any headaches down the road.
How to Identify water damage
When water intrudes into any part of the home, if left unchecked, it will cause some form of water damage.
The scope of the damage depends on how long water was allowed to sit or spread, as well as the volume of water in question.
In some cases, you'll need to make costly repairs to correct the damage. So when buying your next home, knowing what to look for could pay you back in spades.
At your next open house, we recommend checking for the following signs of water damage:
Peeling paint
Wet or dark spots on the walls or ceilings
A damp, musty, or moldy smell
Flaking or cracked drywall
Bowing or warped wood
Standing water in the basement, or signs that the basement has been flooded, like watermarks on the walls.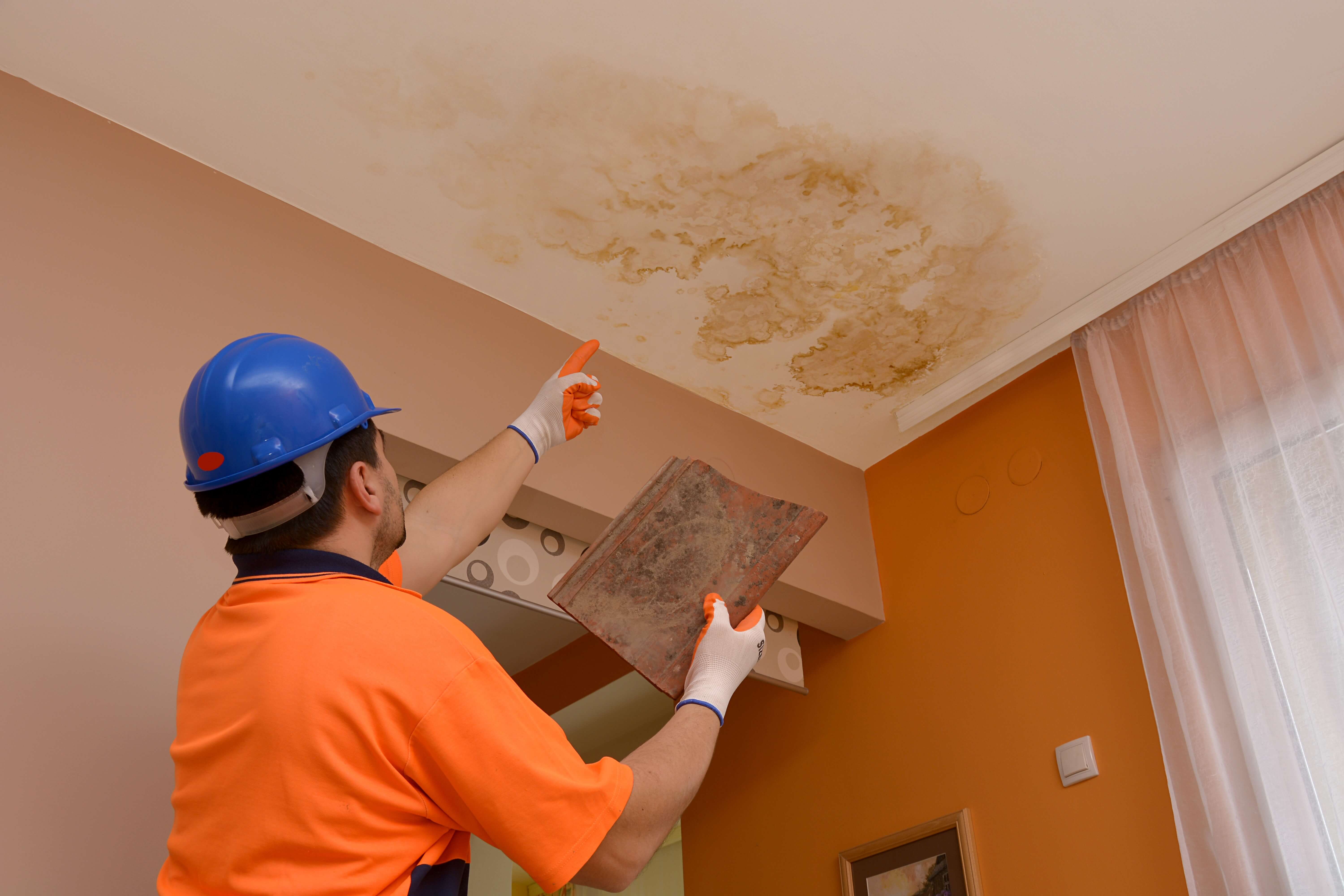 Should I Buy A Home With Water Damage?
Here's where things get interesting.
As we hinted at above, water damage in a new home can be used as a negotiating tactic.
But before trying to talk down the seller, make sure to follow these steps!
Find out if the property is located on a flood plain or in a flood zone.

If so, there's a good chance the home will deal with flood-related water damage in the future. Ask the homeowner for proof of repairs on the home so you can confirm past issues have been corrected professionally.

Schedule a Home Inspection.

Before buying property, if you suspect water damage, make sure an inspector determines:
The source of the water damage (i.e. flood, burst pipe, or leaky roof)
How much damage was done and how long the water was present
What the homeowner did to correct the problem (did they make repairs or hire a professional mold remediation service?)
Whether the home's HVAC, electrical, and plumbing systems are damaged
That all receipts and proof of prior repairs have been provided
If testing was used to confirm the water issue was fixed and mold was removed
Whether the repairs were covered by insurance and whether it will cover problems in the future
Get an Estimate on Necessary Repairs.
If the inspector finds damage, get at least three to four professional estimates from mold or water remediation specialists. Present these estimates to the homeowner and they can opt to pay for the repairs, or you can use the estimates in your negotiations to try and get a lower price.
Before you make a bid, you should do the following:
Get a Comparative Market Analysis (CMA) report from a real estate agent to get an idea of the home's current market value.
Read the home inspection and contract reports carefully and determine what the average cost would be to make any water damage-related repairs.
Subtract the repair costs from the home's market value to give you the amount you should bid. (You can always start with a lower offer, then work your way up to this number if the homeowner counteroffers).
Ask your real estate agent if you can work the repair costs into the offer or if it's better to offer the seller a lower asking price.
Make sure you include repair costs in the bid so that everything is in writing before it's presented to the seller.
So now you know a little water damage doesn't mean the end of your homeownership dreams. In fact, it could help you get a great deal on the home of your dreams.
Clean Earth Restorations specializes in many of the services laid out in this article.
If you're thinking of making an offer on a home with mold or water damage, we'll get you the information you need to close the deal!
For a free consultation or emergency services, call 619-284-4239. We are here to help 24 hours a day, 7 days a week!
{{cta('26848588-675c-4b79-bf73-00557eda0a22')}}
Sources:
https://www.inspectionsupport.net/resources/what-to-know-about-water-damage-before-purchasing-a-home/