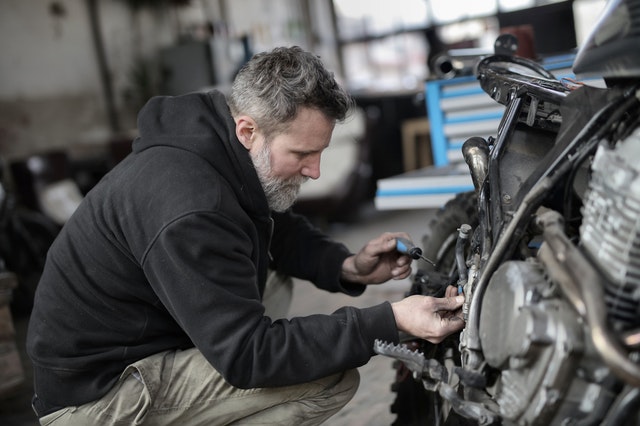 We all have a friend like this guy. The one with all the neat antique stuff of which we are super jealous: those vintage boots they've had since college, or a classic motorcycle that should've died ages ago. But we all know the reason why they have these coveted classics and we don't—our friend simply put more time into maintenance than the rest of us.
Managing a large property (or properties) comes with a host of complex maintenance issues. And over time, they can pile up and overwhelm us.
But, unlike your friend's 50 year-old motor, you don't have to stress and suffer in order to keep your property thriving for years to come. You just need an experienced team with a solid maintenance plan.
So, if you…
—own commercial real estate
—run a facility for your business
—or manage a homeowners association
…Clean Earth Maintenance is here to help!
Your One-Stop Maintenance Shop
People who don't manage property treat them like inanimate objects. But anyone who does knows that property can have a life of its own.
And it's not uncommon for multiple issues to rear their ugly heads at the same time.
Normally when this happens, you have to individually hire your:
Electricians
Painters
Plumbers
Welders
Etc…
This takes valuable time.
And the process of finding, calling, vetting, and then hiring them is not something you want to do when the water heater busts on the same day your lighting system goes dark.
We don't want you to have to scramble to compare prices, quality and the reputations of different service providers when what you really need is help—and fast.
So why not ease your burden with our one-stop shop for all your maintenance needs?

Why Our Service?
We handle everything—Our maintenance service is truly full-spectrum. Spanning all your potential property maintenance needs, including:
Painting
Welding
Carpentry
Electrical Work & Lighting
Drywall & Stucco repair
And much more. Click

here

to see the full details of our service
One Convenient Contract—Simplify your life by reducing all your maintenance contracts into one. No more squabbling over prices or headaches over scheduling.
Clean Earth's skilled team will assess your needs and develop the perfect maintenance plan for your property. Taking all the work of hiring individual contractors off of your plate.
Reputation—Clean Earth Maintenance has been in business a long time. And since 1994, we've established ourselves as a trusted ally to homeowners associations and commercial property owners.
And the best part?
Our employees have stuck with us throughout our long history, honing their skills to better serve you.
See what happy clients have said about us on Google Reviews.
For Full-Spectrum Property Maintenance in San Diego…
Come over to Clean Earth Maintenance for a custom maintenance plan.
And see both your lifestyle and the lifespan of your property improve.
Who knows? It may even look better with time!
Call us today for a free consultation at 619-284-4239. We are here to help 24 hours a day, 7 days a week!
{{cta('26848588-675c-4b79-bf73-00557eda0a22′,'justifycenter')}}