Move over, LA
With neighboring Los Angeles often stealing the limelight—quite literally—some people don't realize San Diego is itself a cultural feast (more on feasts later).
We sport some of the country's best museums, award-winning theaters and unique art galleries.
So, if you're considering a move here (which we highly recommend), here are some stand-out cultural jewels to help you end the debate!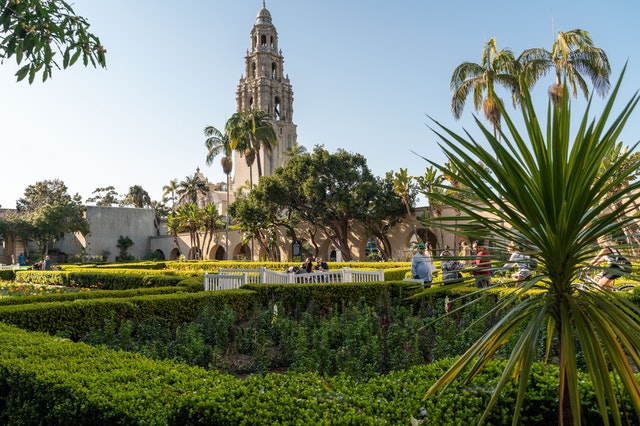 Museums & Galleries
Balboa Park—Our great, green, beautiful colossus. The 1200 acre park houses botanic gardens, 17 museums, elegant Spanish architecture…and a zoo!
We highly recommend The Timken Art Museum. It's home to the Putnam Foundation's globally important collection of European old masters, 19th century American art and Russian icons—and best of all, it's always free!
Chicano Park—Would you believe that a national historic landmark actually sits under a bridge?
Chicano Park, an open-air exhibit of over 80 murals painted on the columns of Coronado Bridge, is dedicated to Chicano artwork of all kinds, and is the largest concentration of such artwork in the world.
Cruizin Lowrider Galeria—With 248 museums in San Diego, it may not surprise you that some are quite niche.
This art gallery is dedicated to Southern California's lowrider heritage and culture. (Pro Tip: Head to La Vuelta on Wednesday evenings in summer to see a community lowrider cruise.)
Sight seeing is hungry work. But don't worry; we have you covered on that front as well.
San Diego's Best Food
(Not all of it of course, but here are some favorites.)
The City is blessed with incredible diversity, offering a veritable bounty to the food lover. Trust us, you'll never be starved of fresh cuisine here.
Check out the following foody neighborhoods to get a head start on your grub crawl.
Barrio Logan drips with Mexican and Latin-American culture. If you have a proclivity for the authentic stuff, come here. (Pro-tip: Salud!'s tacos are incredible!)
The Hillcrest neighborhood offers up a litany of Sunday morning treats—artisan bakeries, a 175-booth farmers market and some of San Diego's most coveted brunch spots.
Little Italy telescopes past and present. 100 year-old staples share real estate with cutting-edge gourmet eateries. And it doesn't limit itself to Italian food. You can enjoy Irish pubs and burgers here just as well!
If You're Moving to San Diego, Be Sure to Have a Maintenance Plan!
(Isn't that how the song goes?)
Anyway, there's enough to dig into here to convince anyone (any sane person at least) to pack their bags and hightail it to San Diego.
But if you need one more reason, we're happy to provide it.
Clean Earth Restorations wants to help you enjoy all the amazing cultural benefits of living in San Diego by removing all the headache of home maintenance from the equation.
Which is why we provide full-spectrum home maintenance—home repairs, carpet cleaning, plumbing and MUCH more. We are the one-stop shop for all your maintenance needs.
With over 26 years of experience in the San Diego area, you can bet we know how to deal with whatever problems you might face maintaining your property.
And we're always just a call away.
In short, we have your back. And we can't wait for you to join the ranks of proud San Diegans!
Call us today for a free consultation at 619-284-4239. We are here to help 24 hours a day, 7 days a week!
{{cta('26848588-675c-4b79-bf73-00557eda0a22′,'justifycenter')}}

Sources: